Getting your website to rank on the first page of search engines requires you to publish great content and build authoritative links. But these won't matter unless you have a site that Google can crawl and index. So, ensuring your website doesn't have issues preventing search spiders from finding its pages will be critical to its long-term success.
Below are search engine optimization (SEO) audit tools to choose from, arranged alphabetically. Each has unique features to determine SEO issues affecting your site so you can fix them and make crawling your website possible. Let's begin!
1 - Ahrefs Webmaster Tools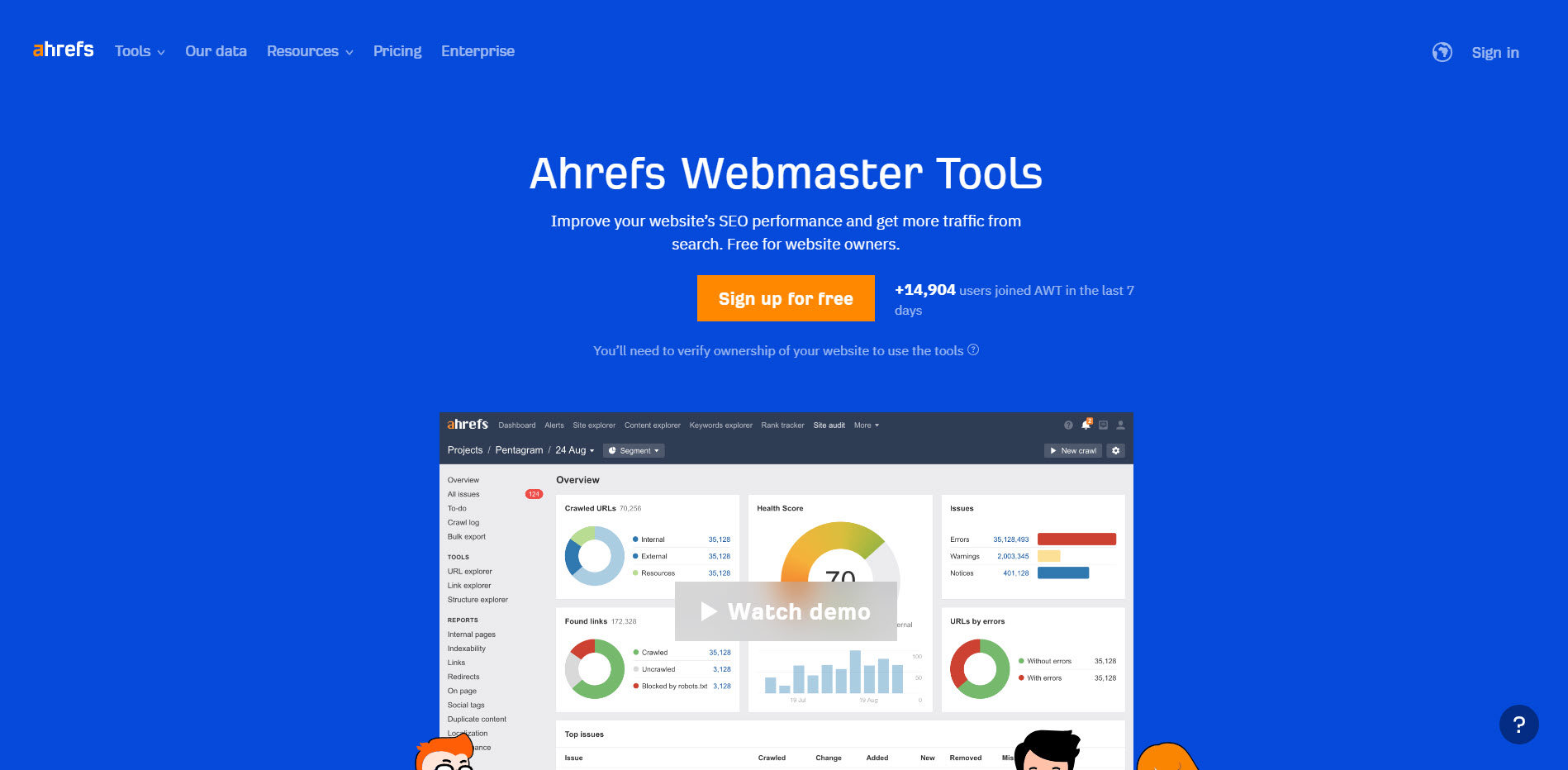 Best for: Site owners looking for a free tool to analyze their website for technical SEO issues.
Ahrefs launched this free SEO audit tool to help users identify problems preventing search engines from finding their sites. After crawling your site, the tool shows you its Health Score based on the number of issues your website has based on their severity. The more critical problems your site has, the lower your Health Score is.
From here, you can check your site's top issues, the pages affected by the issues, and ways to solve them.
Ahrefs Webmaster Tools also shows internal link opportunities for related pages that don't link to each other. It also tells you which anchor text to use for each suggestion to maximize the impact of your internal linking strategy.
You can dig deeper into the SEO audit by looking at the Reports page. It reveals your site's indexable, non-indexable, and broken pages and links, giving you a complete view of how Google sees your website. It also gives you access to its meta tags, redirects, and Core Web Vitals performance, providing further insights and ideas on optimizing your site.
Ahrefs Webmaster Tools also scan other content types on your site, like images, Javascript, and CSS. The tool mainly analyzes the file size and load time distribution of each. This helps you identify resource-intensive files and find ways to compress them, if not replace them entirely.
Pricing
To use this tool, sign up for an account and connect your Google Search Console with it. However, you'd want to consider using Ahrefs' other features like Site Explorer, Keyword Explorer, and others to power up your SEO efforts. Price starts at $99/month.
In particular, Ahrefs' backlink profile checker is one of the best in the industry. With a 35 trillion external backlinks history in its database, you can get accurate insights about the quality of links your site has. Using the data here helps you identify backlinks you must track and prioritize while ignoring and possibly disavowing the worst ones.
2 - Google Search Console

Best for: People looking to understand how their site pages perform on Google search, which queries each is getting impressions for, and what indexing issues are affecting their site's overall performance.
Think of Google Search Console (GSC) as a free keyword rank-tracking tool. It shows you which queries your pages appear on Google search, the number of impressions your pages get, and how many people click on them on SERPs. You can use this information to identify and prioritize your best-performing pages while fixing pages that aren't generating your desired traffic.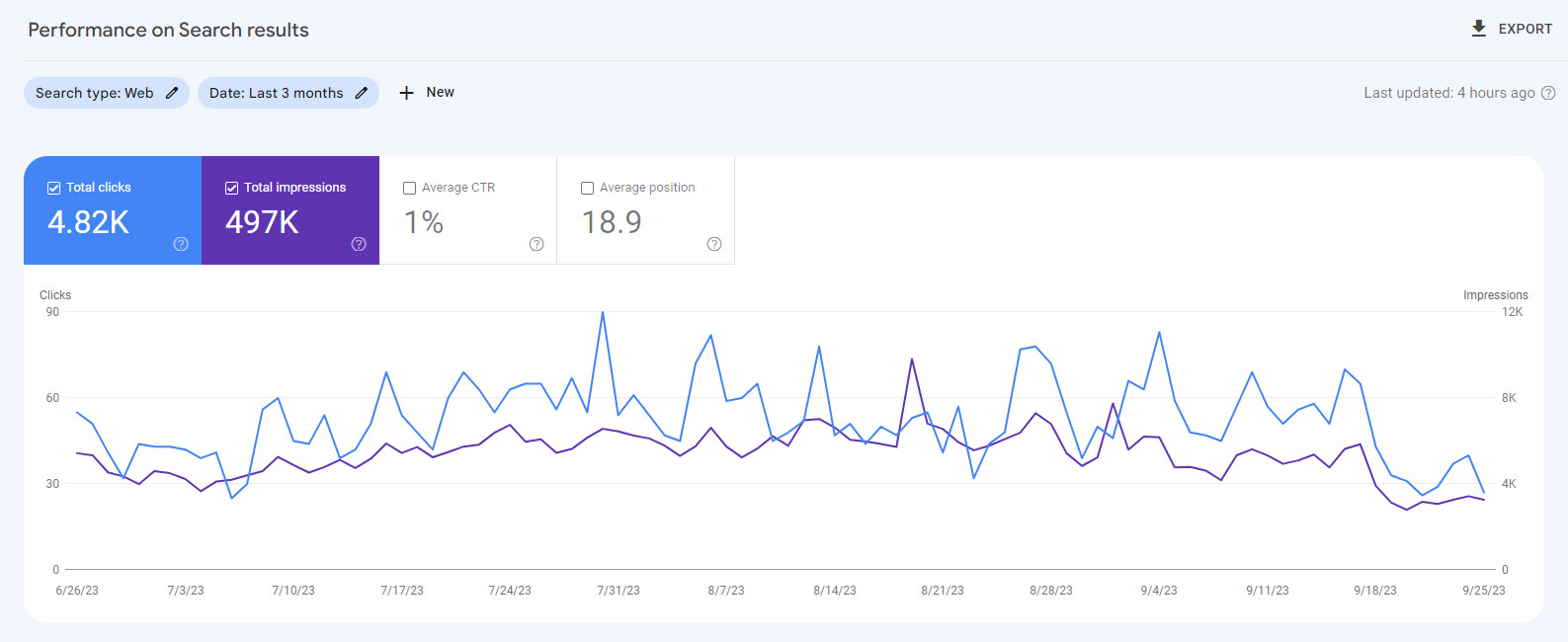 It can also show your CTR and impressions on Google Discover if you optimized your site pages to appear there.
Under the tool's Indexing tab, you can see indexed and non-indexed pages on Google. It also explains why the search engine didn't index the pages so you know how to resolve them if necessary.
After fixing non-indexed pages, submit them using GSC's URL inspection. This informs the search engine that the pages are ready for crawling and indexing.
To help Google search spiders find your site pages more accessible, upload all your sitemap URLs here. By making your site pages much easier to find, Google can spend its resources on your site to index them to their respective keywords.
Also, instead of running each site page on Google PageSpeed Insights, the tool's Experience tab shows which pages have good Core Web Vitals and which need improvement.
And Google Search Console pricing? It's free! Just correctly set up the tracking code you'll get after signing up for an account on your site. The tool will then gather search data about your website.
3 - JetOctopus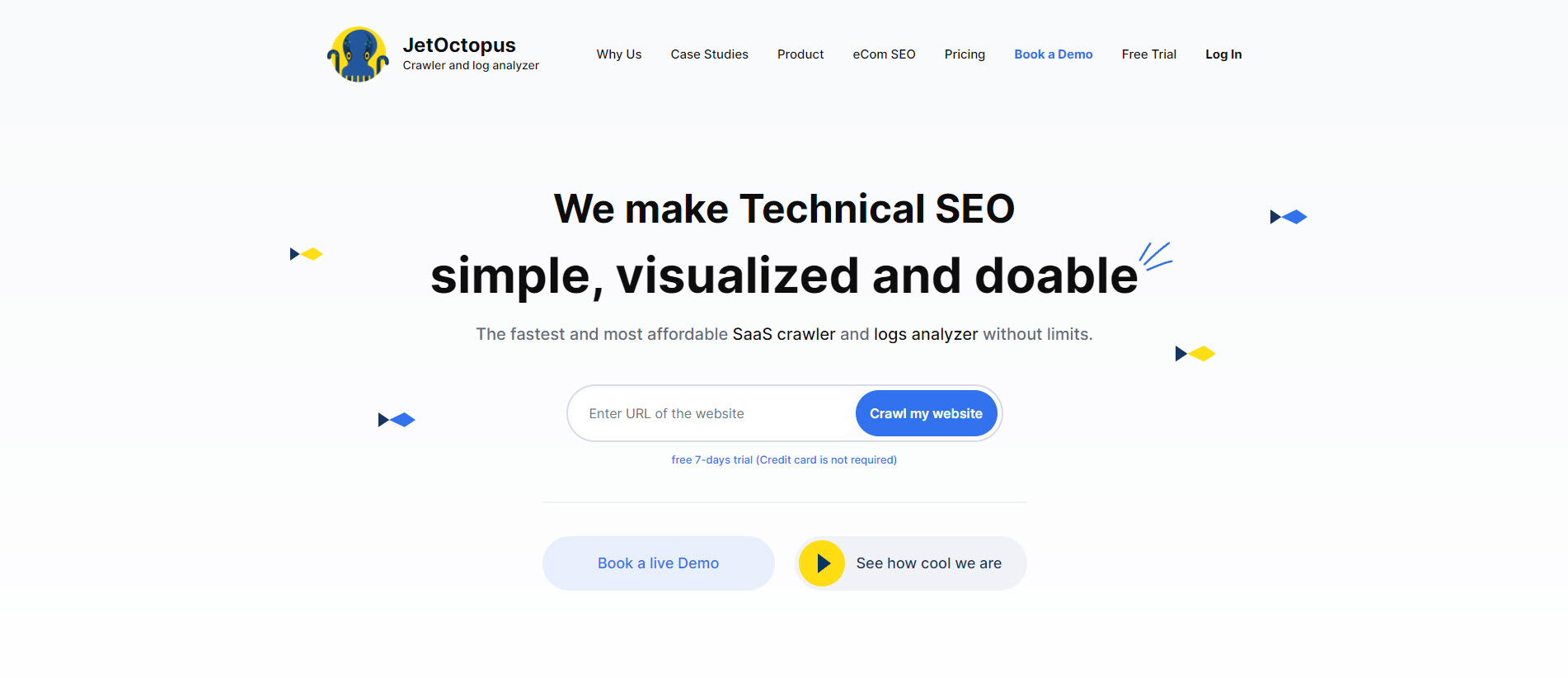 Best for: SEO professionals looking for a tool that can crawl medium- to large-sized websites with relative ease and are working on Javascript-based sites.
Among the many technical SEO audit tools in this list, JetOctopus helps make crawling your website simple and intuitive.
The tool visualizes on-page and technical SEO ranking factors, like 404s, orphan pages, duplicates, and other issues into graphs. This lets you analyze the results and gather valuable and actionable recommendations to improve your website.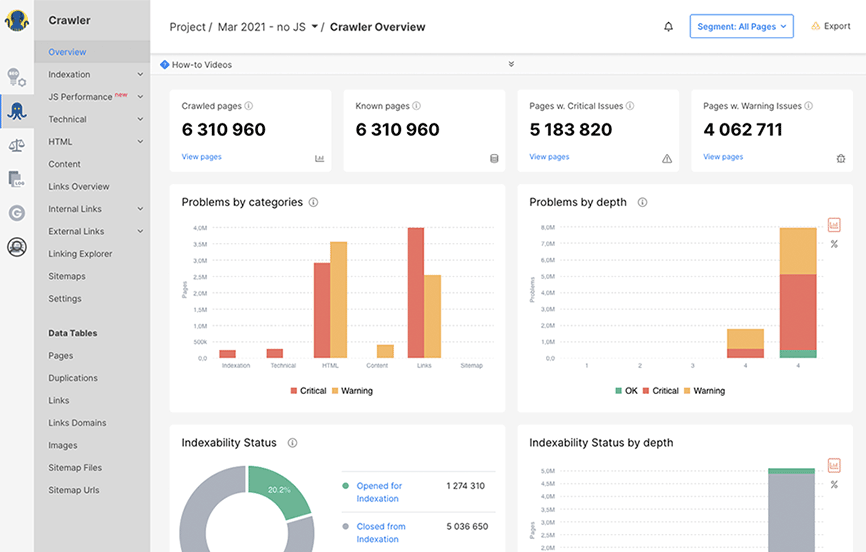 The SEO audit software works as a log analyzer as well. The log file lets you know how search engine crawlers behave on your website. Upon integrating the tool with your live logs, you can see requests being made to the server by search spiders, revealing patterns and anomalies that could affect your site's performance on search engine results.
Best of all, Jet Octopus can scan large websites with thousands of pages and URLs without compromising speed and quality. In fact, you can scan an unlimited number of pages and log limits, as well as integrate with as many client data as possible, like Google Search Console, Google Analytics (GA), and others. This helps streamline determining technical issues and problems affecting your site's rankings and traffic.
Pricing
You can book a demo or sign up for a 7-day free trial to learn how JetOctopus can help your SEO audit needs. After the trial, you must shell out at least €160/month or €120/month paid annually to crawl 100k pages (or 50k JS crawled pages) and 1M log lines. The price increases if you want more pages to crawl and log lines to analyze in a month.
4 - Lumar (formerly DeepCrawl)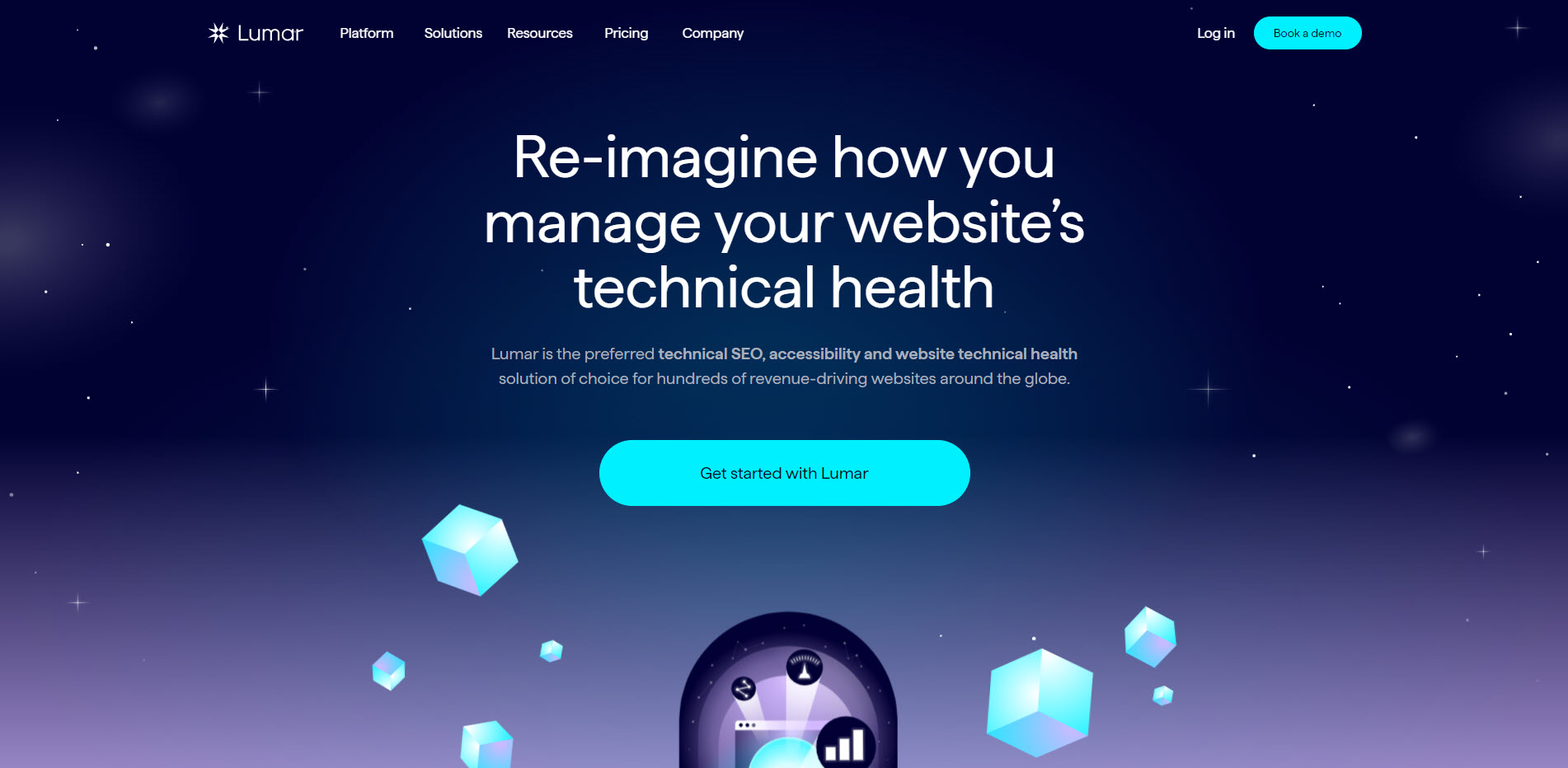 Best for: Enterprise SEO agencies that want to provide clients with easy-to-understand audit reports that get all their stakeholders on board and help gather suggestions on making their sites more accessible and compliant.
Enterprise companies like Adobe, Microsoft, and others use Lumar to help align their various stakeholders using metrics like technical SEO and website accessibility to access the health of their websites.
The tool has one of the fastest web crawlers thanks to its serverless architecture design, giving Lumar greater flexibility when crawling sites of varying sizes. The platform then generates reports using the gathered data to provide users with SEO analytics and opportunities tailored to the site's issues
If you're a stickler for website accessibility and compliance, Lumar gathers the top accessibility issues your site has. This includes having duplicate descriptions, missing image alt texts, insufficient text contrast, and more. The tool takes all this information and shows your site's into three accessibility scores: A, AA, and AAA. The higher the scores across these three measurements are, the more accommodating and inclusive your site is to PWD users.
Over time, your website's health may accumulate issues with changes made by your team. To help you stay on top of them, Lumar's automated QA testing thresholds help eliminate mistakes and errors going live on your site. Integrate this feature in your web developer's continuous integration and delivery pipeline to help your team quickly catch and resolve errors.
Pricing
You must request the tool's custom prices from the site's pricing page. The fee depends on factors like your website's size, needs, audience, and more.
5 - Netpeak Spider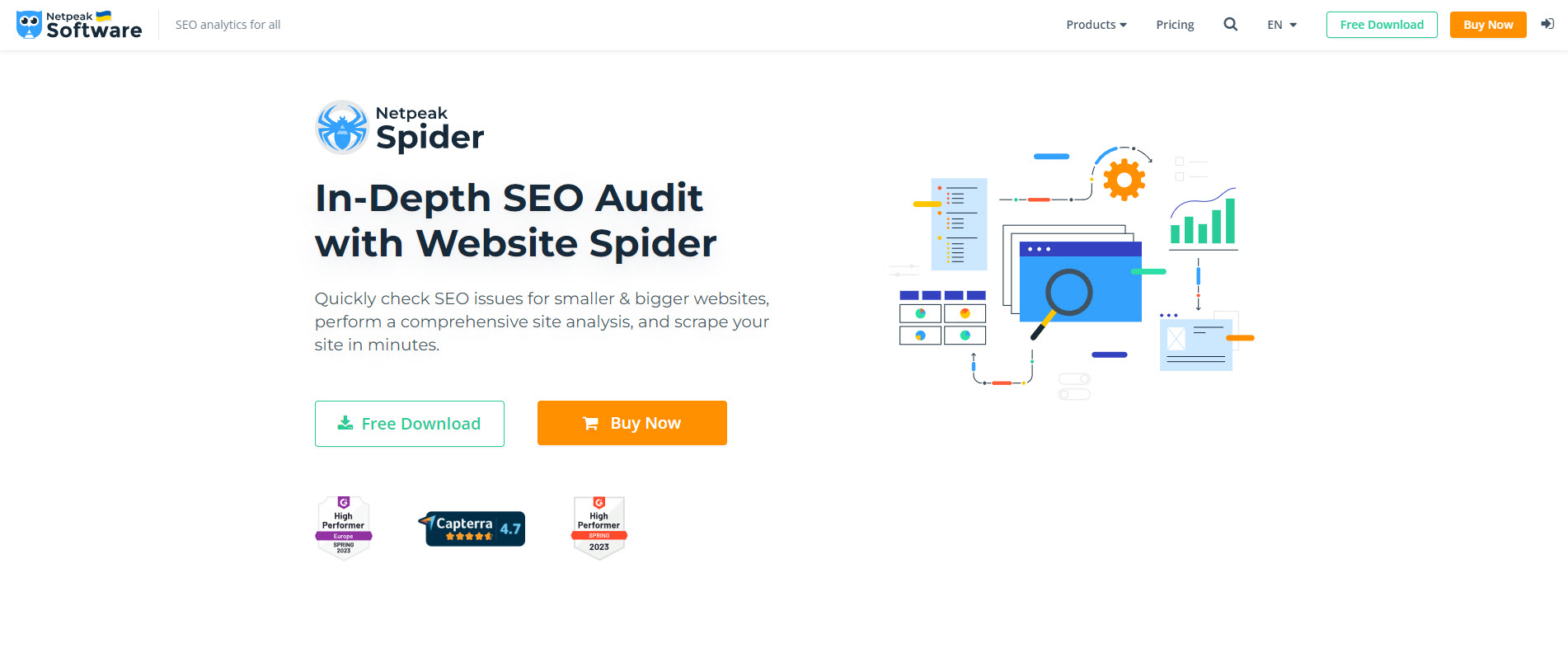 Best for: Site owners and SEOs looking for a budget-friendly but powerful SEO audit tool that can scape data from other websites.
Netpeak Spider is one of the few desktop-based tools in this list that creates SEO audit reports for users. Enter your website URL on the tool to analyze it across 100+ factors in minutes. This helps you easily identify issues requiring your utmost attention to improve your site's search engine rankings. You can also bring in data from GA and GSC to gather all website data into a single dashboard report.
If you're running an agency, you can export client reports into white-label PDF files complete with your logo and branding.
Aside from website audits, Netpeak Spider can scrape data from other websites using over a hundred conditions. This helps you reverse-engineer your competitor sites' best-performing pages and replicate their content structure on your site to achieve success.
As a tool you need to install and run on your computer, the speed of the SEO audits depends on your specs. The faster your RAM and processor are, the sooner the SEO analysis will be complete. However, you can only access the reports where you saved them in your computer or cloud storage. This could be a problem if you jump from one computer to another since you have to always save a copy of the reports on the cloud.
Pricing
Netpeak Spider costs as low as $7/month, paid annually (or a lifetime license of $168) to scan 200,000 URLs and gain access to its essential features. Higher plans give you unlimited URLs to crawl, custom website scraping, third-party app integration, and white-label reporting.
You can also bundle Netpeak Spider with Netpeak Checker, an in-depth SERP scraping tool, to unleash the power of your SEO audit campaigns.
6- OnCrawl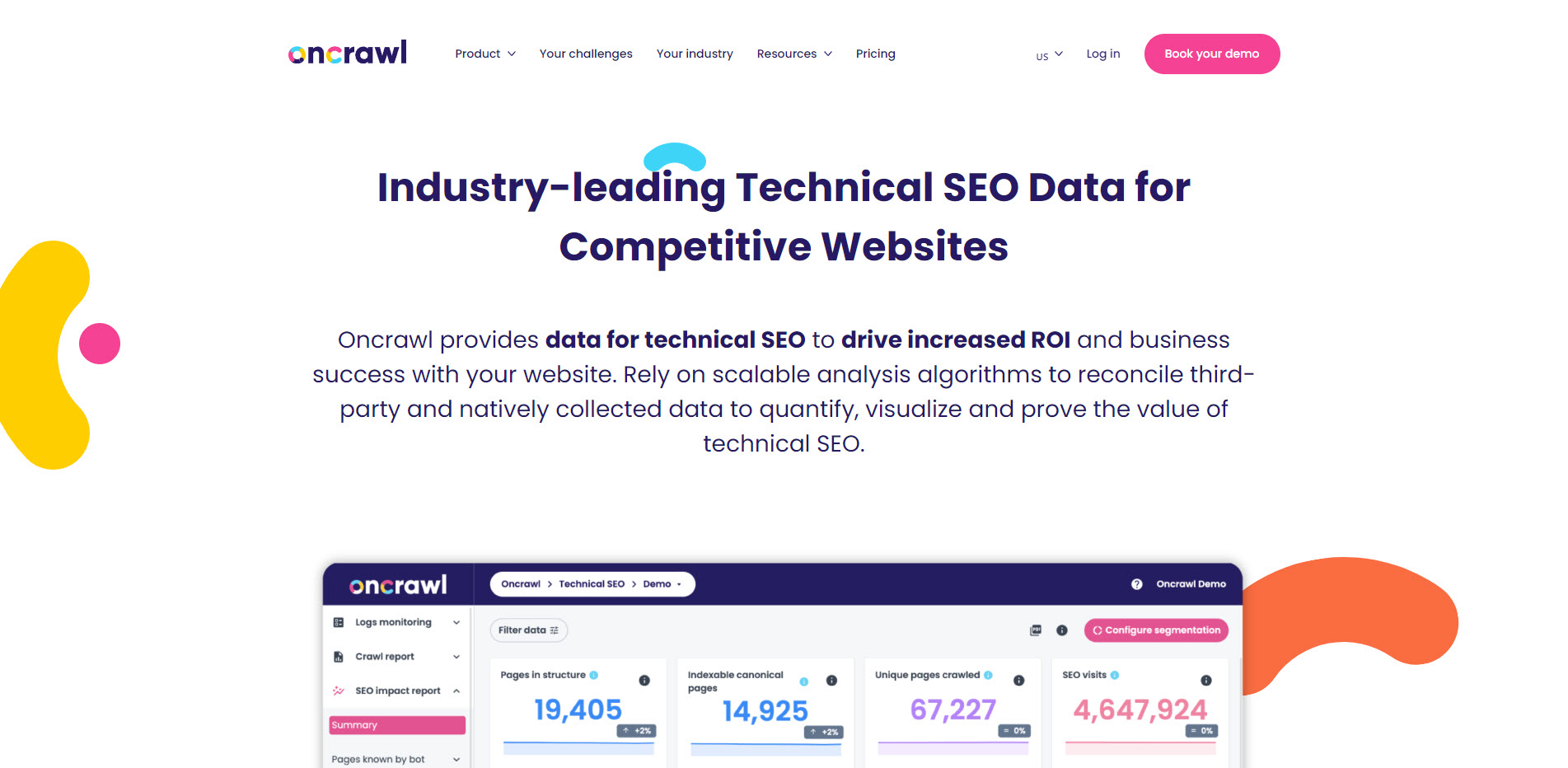 Best for: SEO companies hunting for a safe, secure, and comprehensive SEO audit tool that can crawl any website type and complies with GDPR (with its log file analyzer).
An industry-leading technical SEO audit tool, OnCrawl helps you find and fix on-page SEO issues affecting your site performance. It also gathers and segments information about your site pages, like product pricing, implementation of AMP, publishing dates, and others.
To help OnCrawl find all the pages you want to locate and analyze your site, you can customize the website crawler to initiate JS crawling, DNS override, and more. All the data it collects, even from third-party tools, helps you determine how you want search spiders to crawl your pages and which ones they should index on search results.
Its log analyzer feature determines and analyzes requests made by search bots and users from your site servers. First, OnCrawl saves the log files in a secure FTP space in observance of GDPR compliance. They don't go straight to the application and expose your visitors' IP addresses. Now, since log files are difficult to understand, OnCrawl segments the data and presents them to users with actionable recommendations to help make changes that will improve your website's performance.
People building their own dashboard to host website data and present them to teams and clients can use OnCrawl's open rest API. It gives you unlimited access to its data so you can aggregate and present them to users according to your preferences.
Pricing
OnCrawl offers three plans to choose from. Explorer gives you a 100,000 URL quota a month for a single project. Business Plan lets you manage two projects and gives you 500,000 monthly URL quota. Finally, Infinite and Beyond package gives you a custom number of projects and URLs to crawl in a month. It also provides you access to its data and log analyzer features. Request for a quote from the site for the price of your desired plan.
7- Raven Website Auditor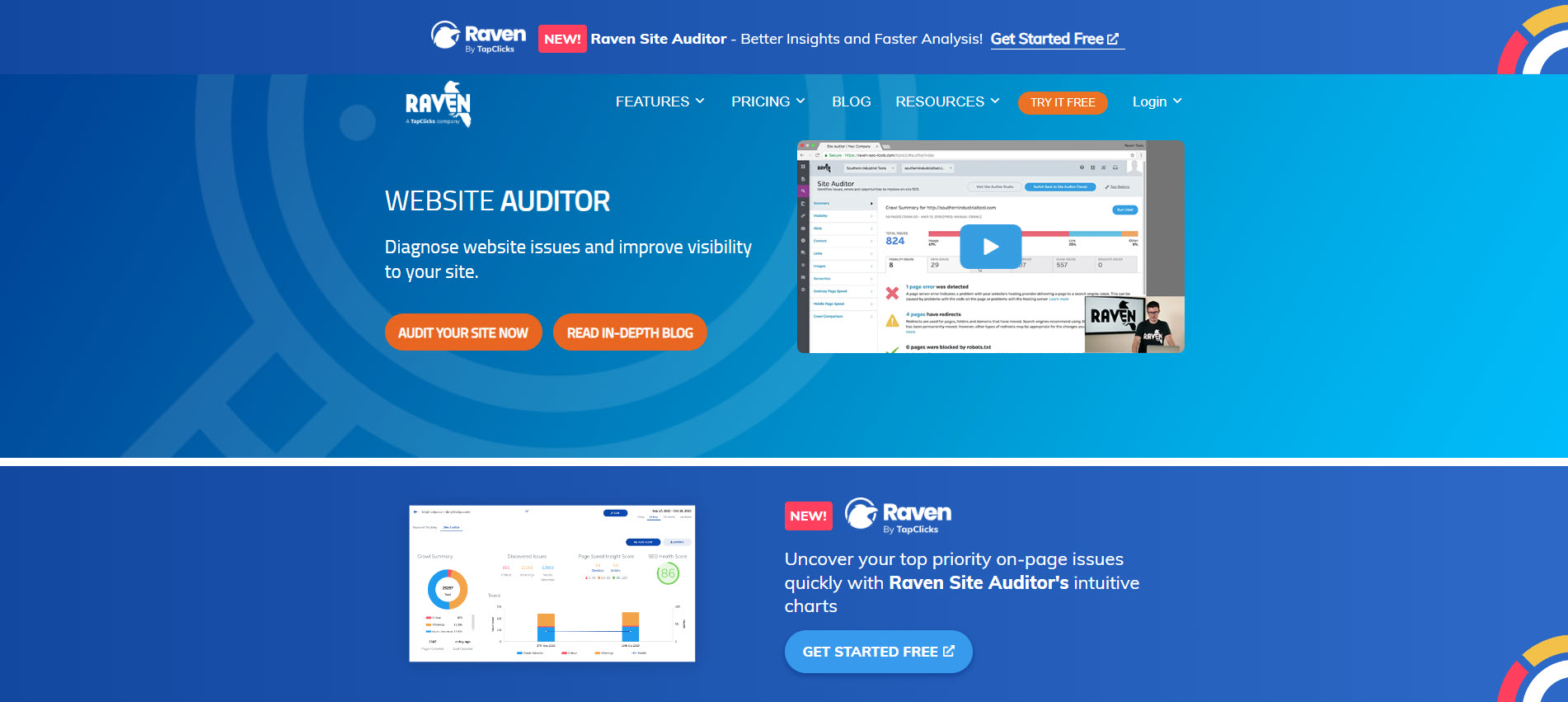 Best for: People in search of an all-in-one SEO tool with a robust site audit and client reporting features.
Raven is a collection of SEO and marketing tools to help you and your team develop SEO campaigns primed for success. Its site audit tool is responsible for diagnosing your websites for issues preventing them from ranking high on Google search, if at all. Set a recurring schedule when you want the tool to audit a website and change its crawl depth if you wish.
Once the scan is complete, Raven organizes all its findings into six buckets to help you prioritize which potential SEO problems to address first. For instance, if you're wondering why your site isn't appearing on organic search despite optimizing your site pages properly, check out the Visibility Issues bucket for the issues and their solutions. Other buckets check for issues on your website's content, incoming and outgoing links, and images.
Raven allows you to choose how to view the audit report. Instead of showing buckets, you can show an SEO audit checklist you plan on completing or sharing with your team or clients. This allows you to track your progress in fixing your website issues. Also, instead of sending the SEO audit report in PDF format, you can send them a link to the report they can view online and on any device.
Pricing
Raventool's pricing starts at $49/month ($39/month paid annually) for two users, two projects, and 1,500 keyword ranking checks. The price increases along with the number of users, projects, and keywords.
Aside from the site auditor, users can conduct keyword research, spy on competitors, develop a link building strategy and campaign, manage their social media accounts, and more.
8 - Screaming Frog SEO Spider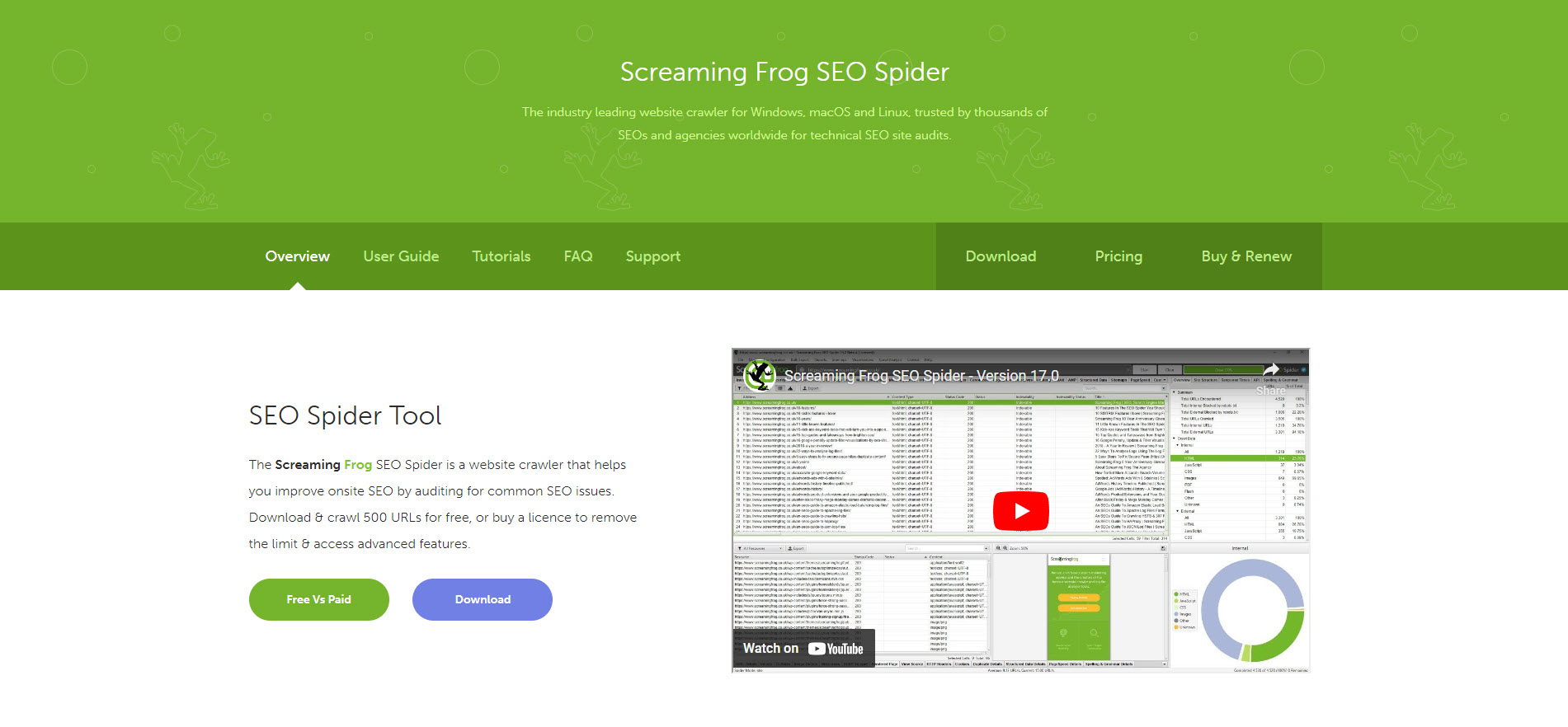 Best for: SEO professionals and site owners who want a tool that provides everything they need to know about a site's technical SEO make-up and composition to determine how to fix its issues.
Screaming Frog is one of the best SEO audit tools on this list. At the very least, it's the most popular desktop-based one that can conduct a comprehensive analysis of your website's SEO strategy and campaign. Upon auditing a website, Screaming Frog looks at your web pages and metrics using factors like meta descriptions, broken links, the website's schema markup, and more to determine ways to fix your site for its SEO issues.
The software also visualizes your website structure to show its internal links, which is helpful in detecting orphan pages. You can also use the visuals to help build your content silos, which can help increase your Google rankings when properly executed.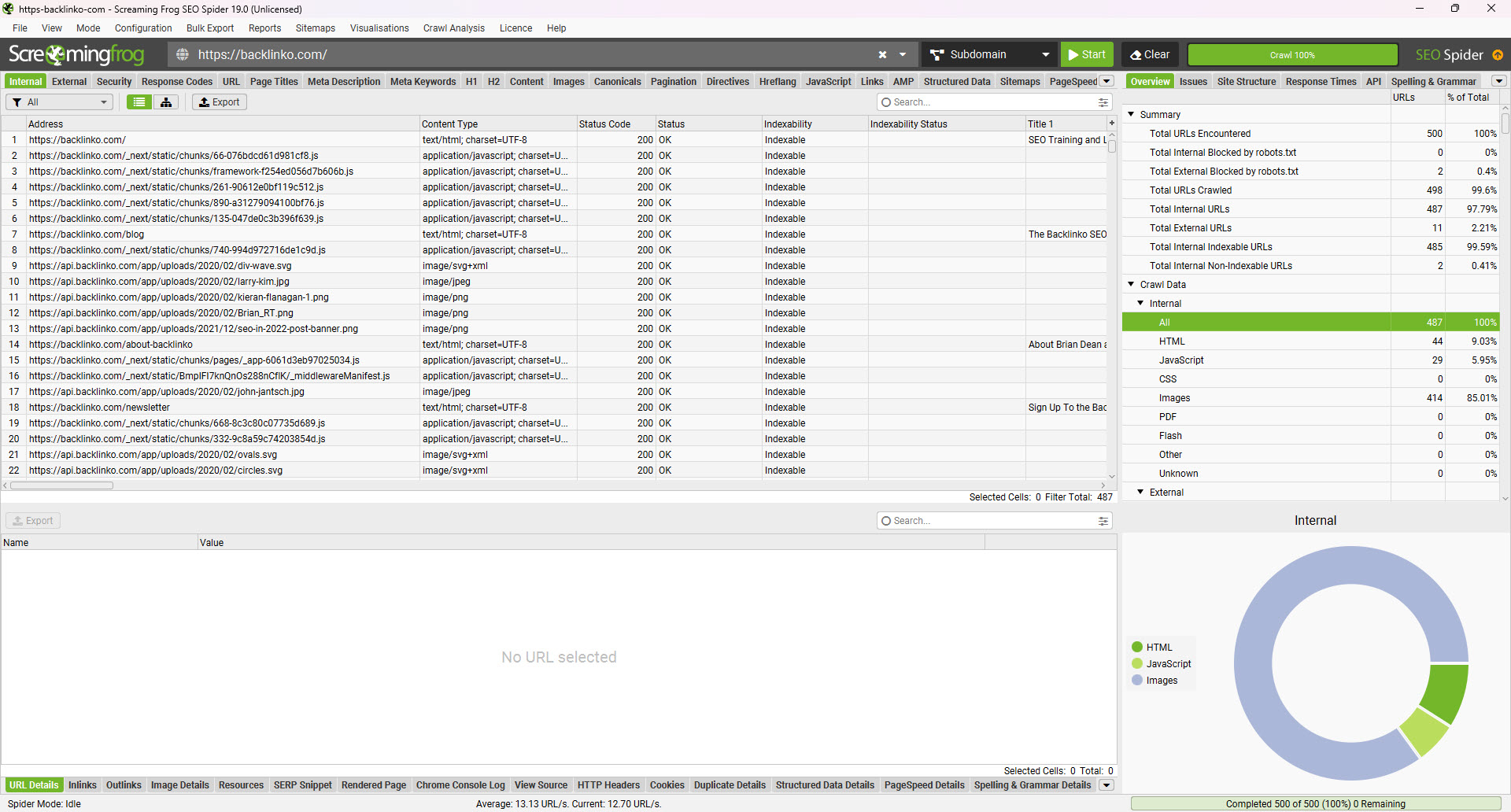 Users can also deep dive into auditing their websites' content quality using Screaming Frog. Aside from analyzing page titles and metadata, it lets you identify near-duplicate content (common among e-commerce sites) to create unique content for these pages and get them to rank on Google. Also, say goodbye to Grammarly because the platform has a built-in grammar and spelling checker. This ensures that you're communicating the message to your audience correctly.
For Javascript website owners, you can properly crawl and render its web pages using the integrated Chromium WRS. This is a game-changer because not all tools can audit JS sites. With Screaming Frog, you can determine how Google views your website and what you must do to solve any SEO errors it may have.
Pricing
Screaming Frog is a freemium SEO checker and audit tool that lets you crawl 500 URLs per website. It also lets you use features like finding broken links, generating XML sitemaps, and more. Download the software and try it out for yourself.
The paid version, which costs $259/year, lets you crawl unlimited pages for a website. It also unlocks advanced features like crawl configuration and comparison, third-party integrations, and others.
9 - SE Ranking Website Audit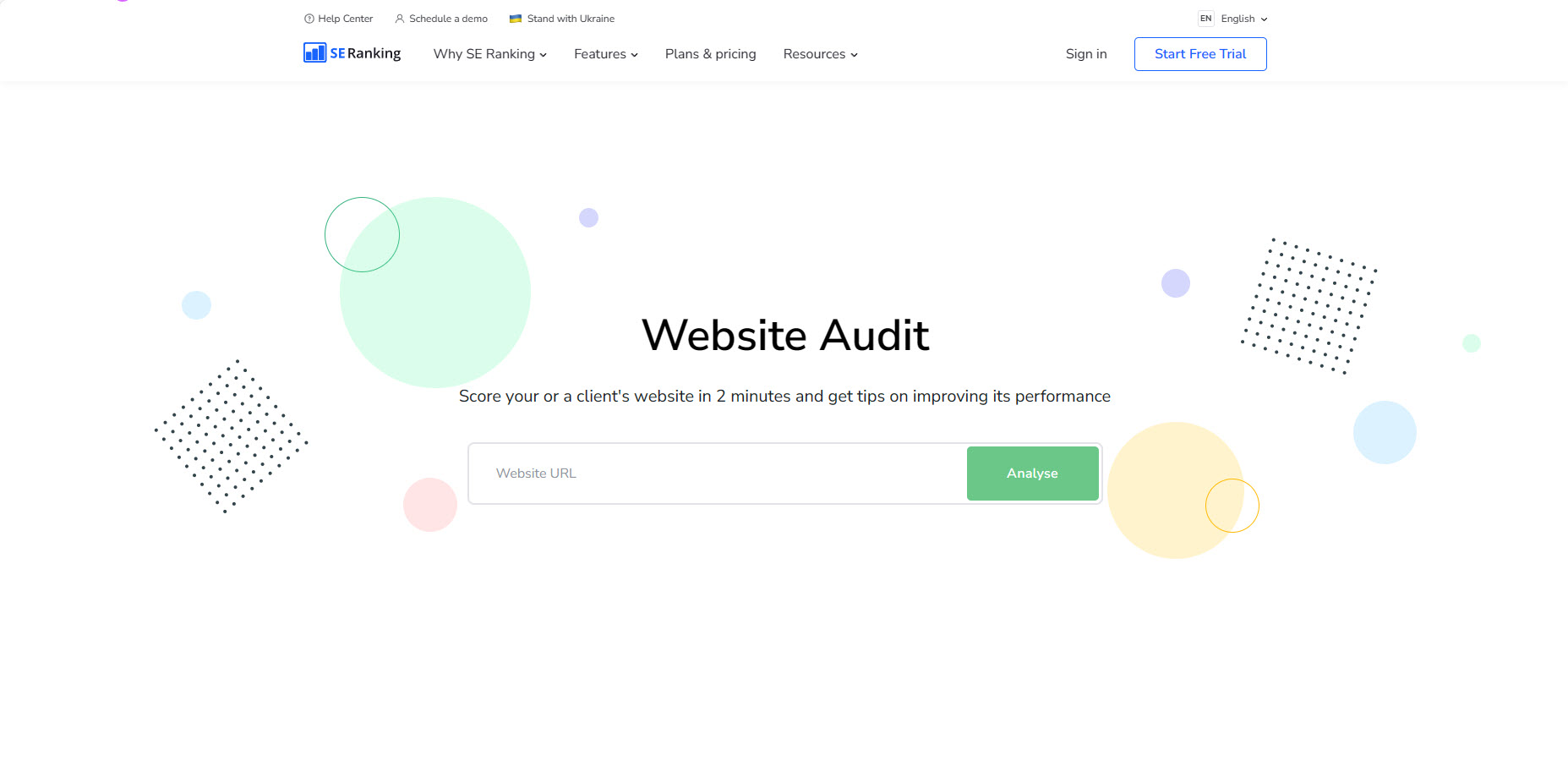 Best for: SEO freelancers and companies that want to offer prospects and clients site auditing and reporting as an additional service.
SE Ranking is another SEO tool in the list that offers features to help you build a custom SEO campaign for your websites. And part of assisting users to develop one is first to assess their site's current SEO performance and make the necessary fixes before moving on to the next phase of SEO. That's exactly what the tool's site audit feature does.
Upon running a complete audit of your site, you can view a general overview audit of the results from its score and top issues. Your goal is to increase your SEO score by addressing the most critical issues identified by SE Ranking. Each case describes the problem and how you can solve it. So, even if you're an SEO newbie, you can start fixing your site problems by following its directions.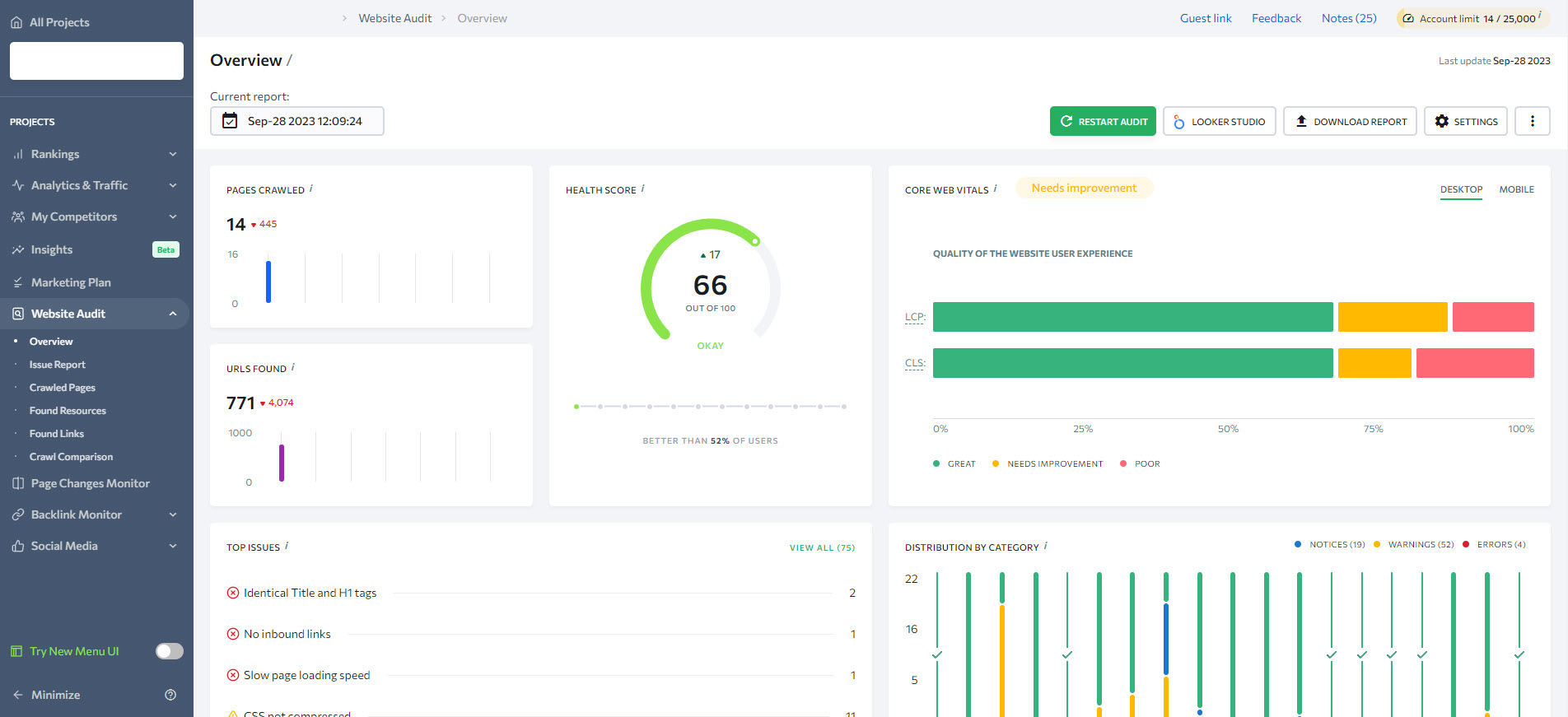 Aside from on-page issues, the audit tool helps you make sense of your off-page SEO performance. You can better understand your site's Domain Metrics (DM) by looking at its backlinks and referring domains. It also breaks down the dofollow and nofollow links pointing to your site.
All this information helps you understand the quality of links pointing to your site, which can dictate the kind of link building strategy you must implement. So, the more links you get from authoritative domains, the higher your DM is.
SE Ranking also lets you download the report in PDF format and send it to your clients. Even better, create a white-label client dashboard that lets them view your site audit report and other features when they log in.
Pricing
SE Ranking pricing starts at $39/month for 40,000 pages to crawl across ten projects (7,000 pages max per site). The price increases along with these limits, like keywords to track, backlinks to check and monitor, and others.
10 - Semrush Site Audit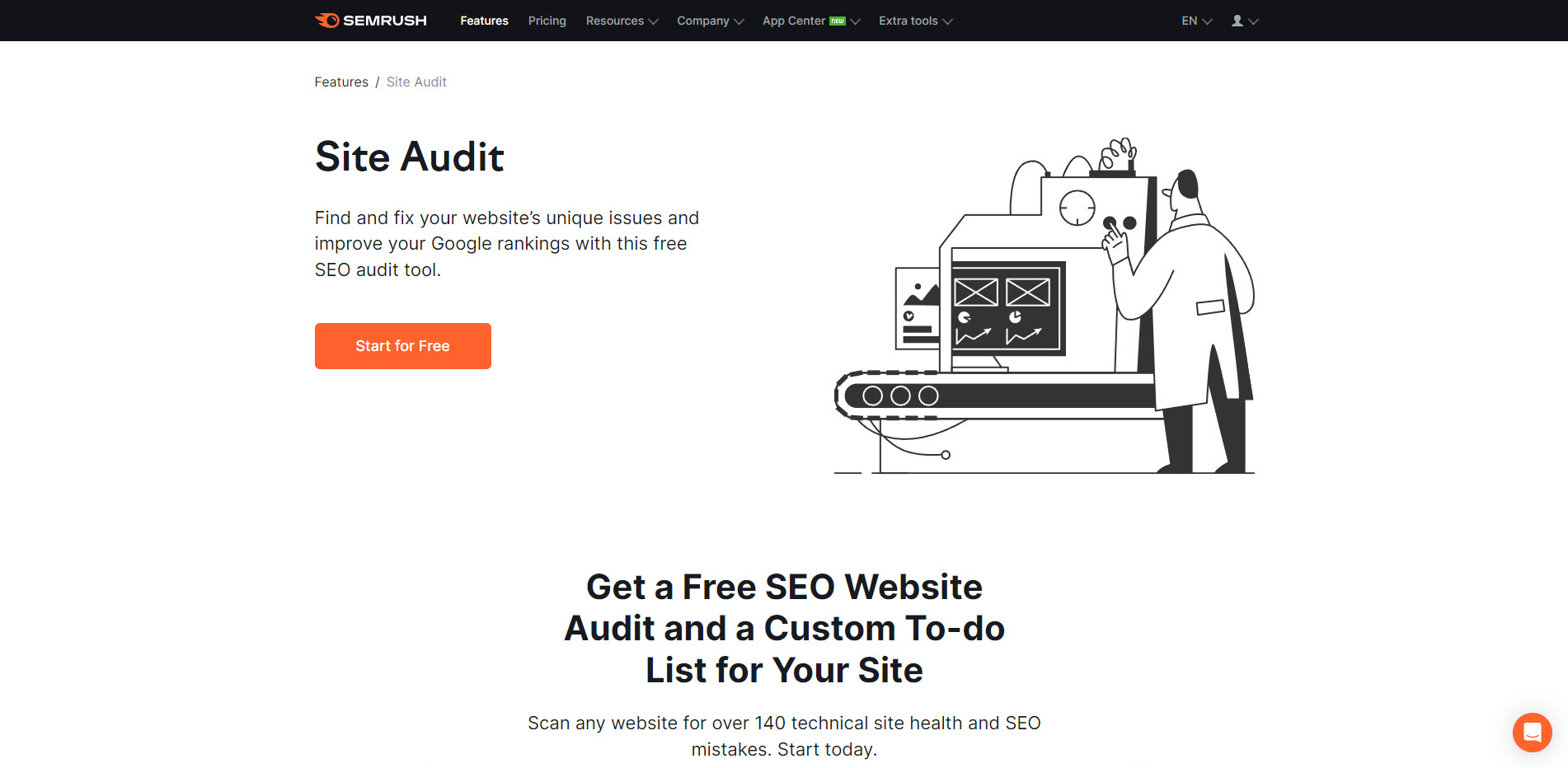 Best for: People working on different SEO projects and need an easy way to manage website changes over time and ways to stay on top of potential issues that may arise from each.
Semrush boasts a beautiful dashboard for its SEO audit feature. Like Ahrefs and SE Ranking, it shows your site's health from 0-100 based on the data gathered from your site pages. It breaks down your health into thematic reports, like crawlability, international SEO, markup, and others. At the bottom of the page are the top issues you must address to improve your site's overall health and organic search performance.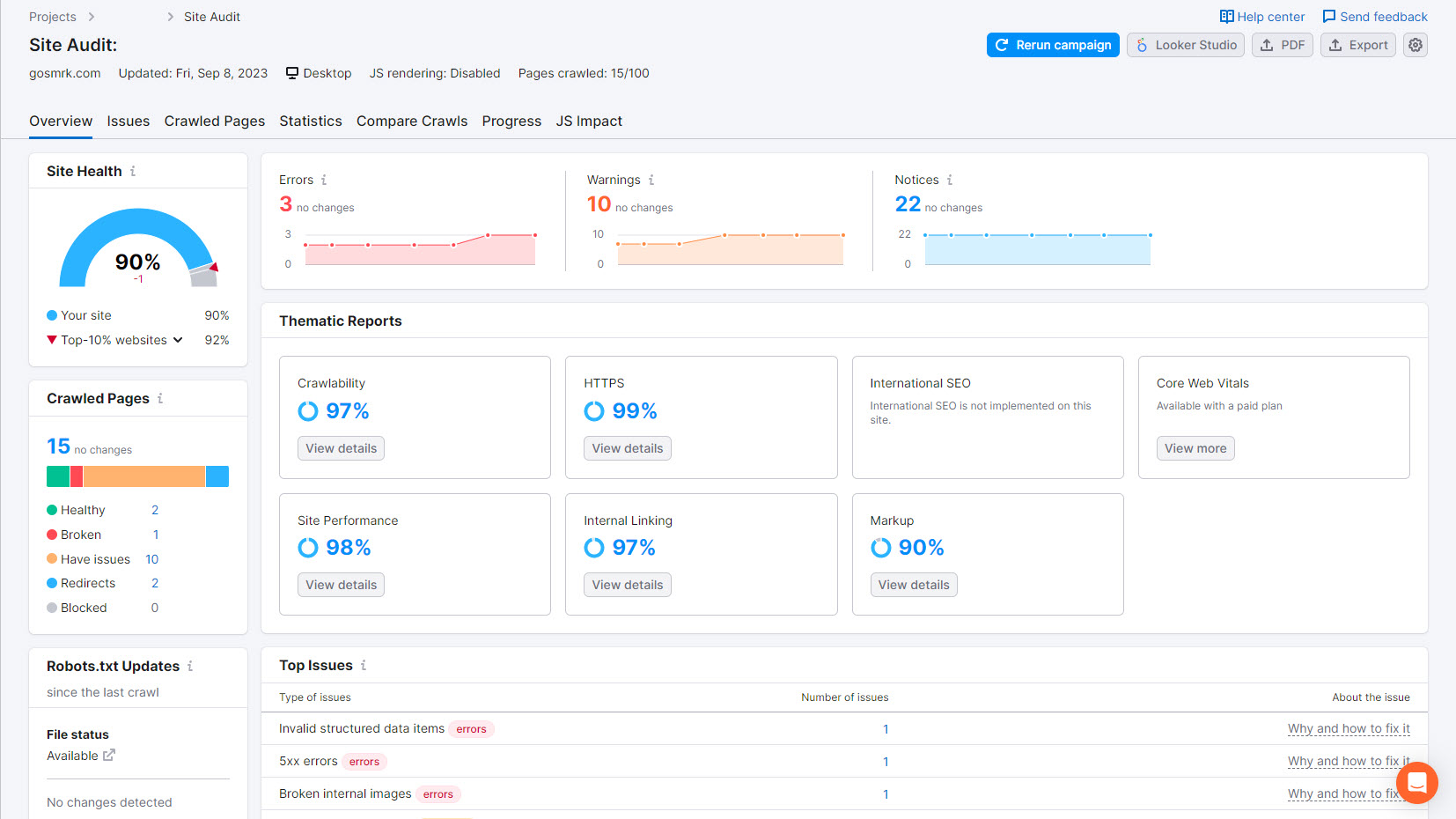 The Statistics tab shows an overview of your site's markup, crawl depth, AMP links, canonicalization, and others. You can change the view from list to graph to your desired way of interpreting the data.
Clicking on the Issues tab, you can see the exact SEO problems Semrush found on your site. It identifies the affected pages and shows you how to fix them properly. If you're working with the team, you can send the issues as tasks in your Semrush CRM, Trello, or any Zapier app so your team can start working on them.
You can also view the historical chart for site audits. It shows the number of issues Semrush has spotted over time and how good you are at addressing these things.
Finally, the tool has a log file analyzer. Download the log file from your hosting or server and upload it here. It then visualizes Googlebot activity based on the number of requests made, the status codes of the URLs they tried accessing, and the file types of each.
Pricing
For $129/month, you can add up to five projects under your account with 100,000 pages to crawl monthly (20,000 pages for each project). Other features included in this plan include Domain and Keyword Analytics and Reporting. As the price increases, you get more pages to crawl per account and project. You can also unlock features beneficial to your SEO initiatives, such as the Content Marketing Platform.
11 - SEO Powersuite Website Auditor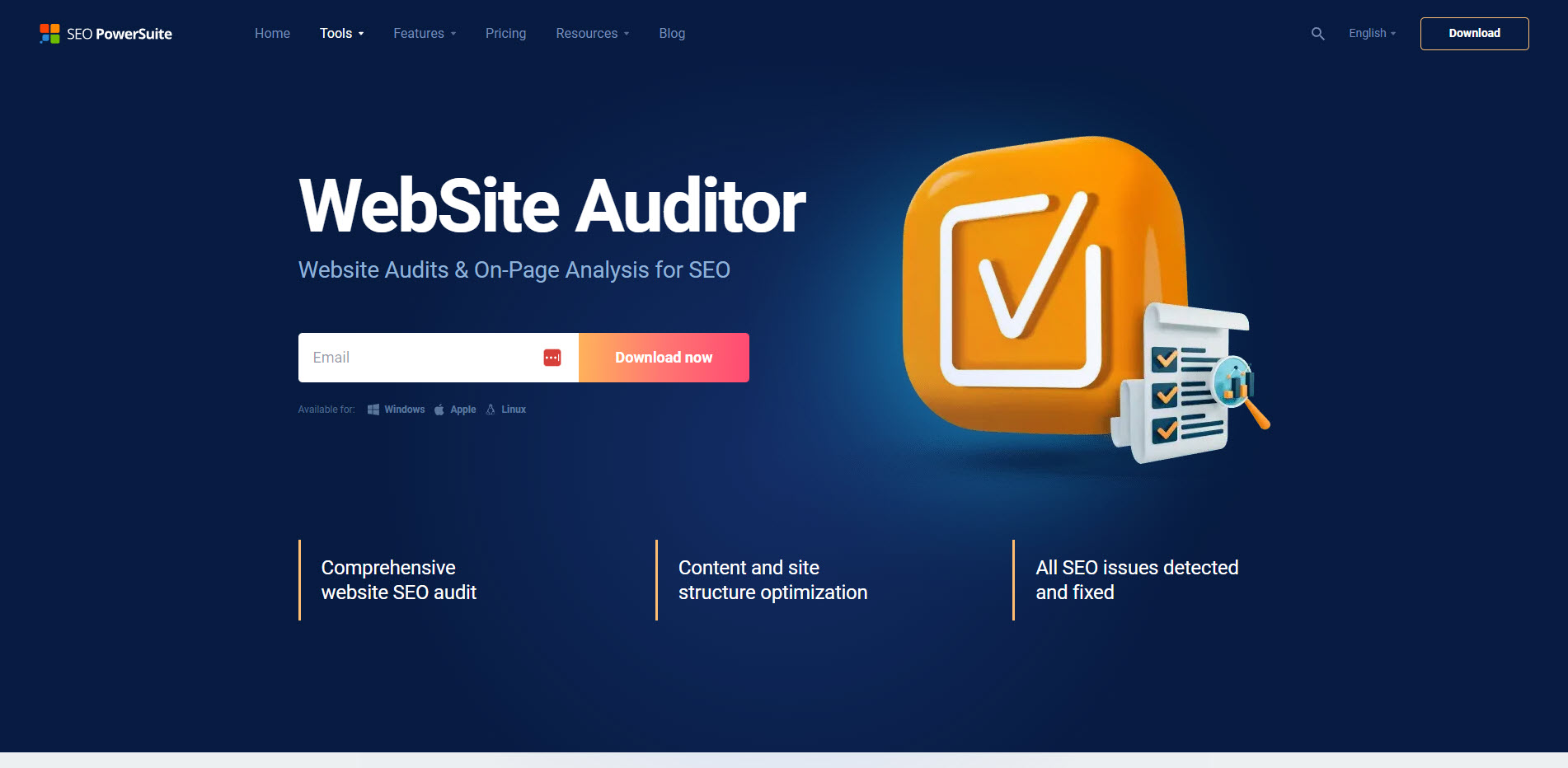 Best for: Site owners looking for a freemium, comprehensive SEO audit tool to identify problems keeping their websites from ranking on Google.
SEO Powersuite's Website Auditor analyzes your site pages to determine problems preventing your site from reaching the first page of organic search rankings for its keywords. The tool scans your website's internal and external resources as instructed by its robots.txt. It then categorizes the issues based on severity to help you prioritize issues you must address first. The tool also analyzes your site page's Core Web Vital metrics to help you improve its site speed.
To help point search engines to the correct pages of your site, the Website Auditor lets you create robots.txt and XML sitemap files for your site. Uploading them on your hosting prevents you from crawling unnecessary URLs while putting your most important ones that Google may crawl and index at the forefront.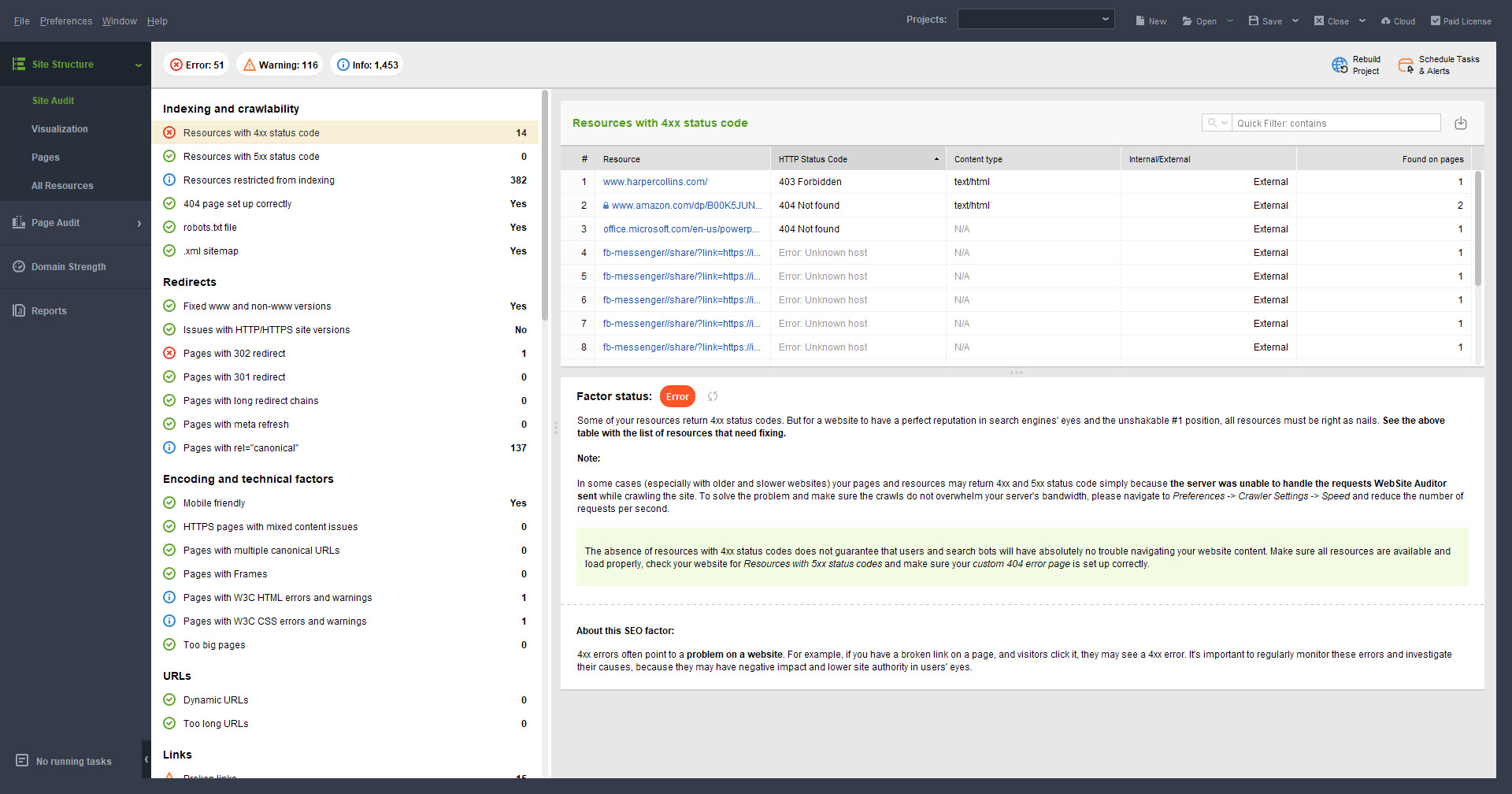 The tool also has a site structure visualizer to help you spot orphan pages and create internal links pointing to them. It also lets you plot your upcoming topic clusters or reorganize your current silos into new ones to help strengthen your site's topical relevance.
Website Auditor also has comprehensive on-page SEO tools to help search spiders crawl your pages easier. You can audit your pages on a content level by finding TD-IDF keywords to include in the page and help make them more relevant to the keywords they're optimizing for. Its Content Editor lets you edit content directly into the tool by adding words and phrases to optimize the page further for its target keyword.
Pricing
You can download and install the software for free. You can crawl up to 500 URLs for each website, plus the in-app content optimization feature. You also get limited access to SEO Powersuite's other tools: Rank Tracker (keyword research and rank tracking), SEO Spyglass (backlink analysis), and LinkAssistant (link prospecting and outreach).
To get unlimited access to all its features, buy the Professional ($299/year) or Enterprise ($499/year) plans. The difference is that the latter allows you to download and export white-label reports to clients.
12 - SEOmator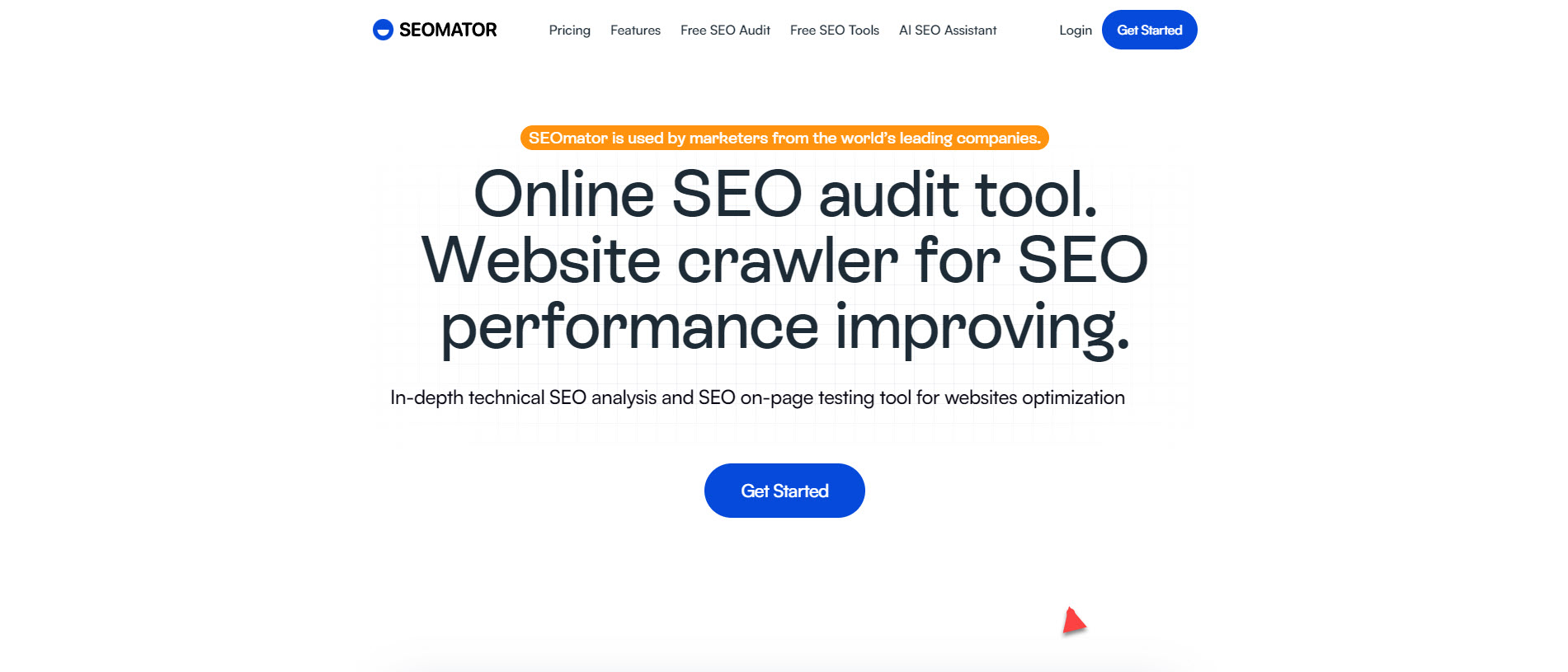 Best for: Companies that want to leverage SEO audit reports as part of their lead generation strategy.
SEOmator has a sleek dashboard that tells you how good your website is based on various SEO audit factors. You can browse through the different SEO issues and technical problems the tool spotted. You can also connect and import data from your GA and GSC accounts into the dashboard to give you a full view of your SEO efforts. Having all this information at your fingertips lets you make the necessary changes to your site and improve its performance.
To help make this process much easier, SEOmator has a step-by-step SEO checklist you can follow even if you have limited SEO experience. By running through the list, you ensure that Googlebots gets to crawl your site pages, allowing you to increase your keyword rankings.
The tool also lets you download the white-label reports of the sites you're working on or trying to close as clients. Using its premade templates, you can impress them with a professional-looking report containing comprehensive data and actionable insights to help take their site over their competitors and to the top of Google.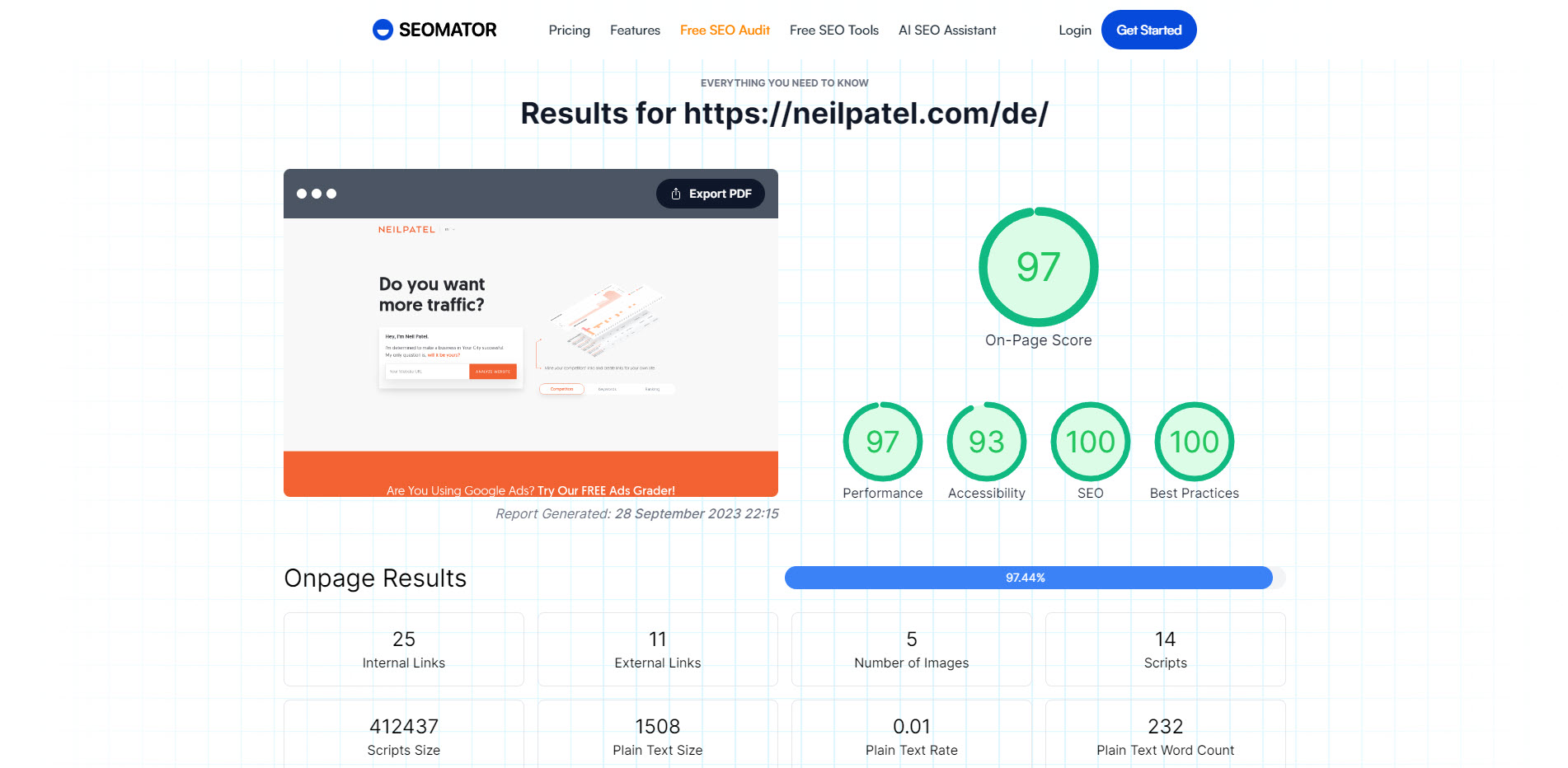 SEOmator also offers free SEO tools to help get your website on the right track. Aside from its free SEO audit tool, its features include backlink checker, keyword research, mobile support test (to see how your website looks on mobile devices), website speed test (to monitor loading speed), and others. All this shows you a fraction of the power SEOmator has once you subscribe to it.
Pricing
For $49/month, users can add a project with a single seat and analyze up to 1,000 URLs. Higher plans give users more projects, seats, and URLs to crawl per edit. All plans contain the same features, from Google/YouTube/Bing rank tracking to SEO checklists.
13 - SEOptimer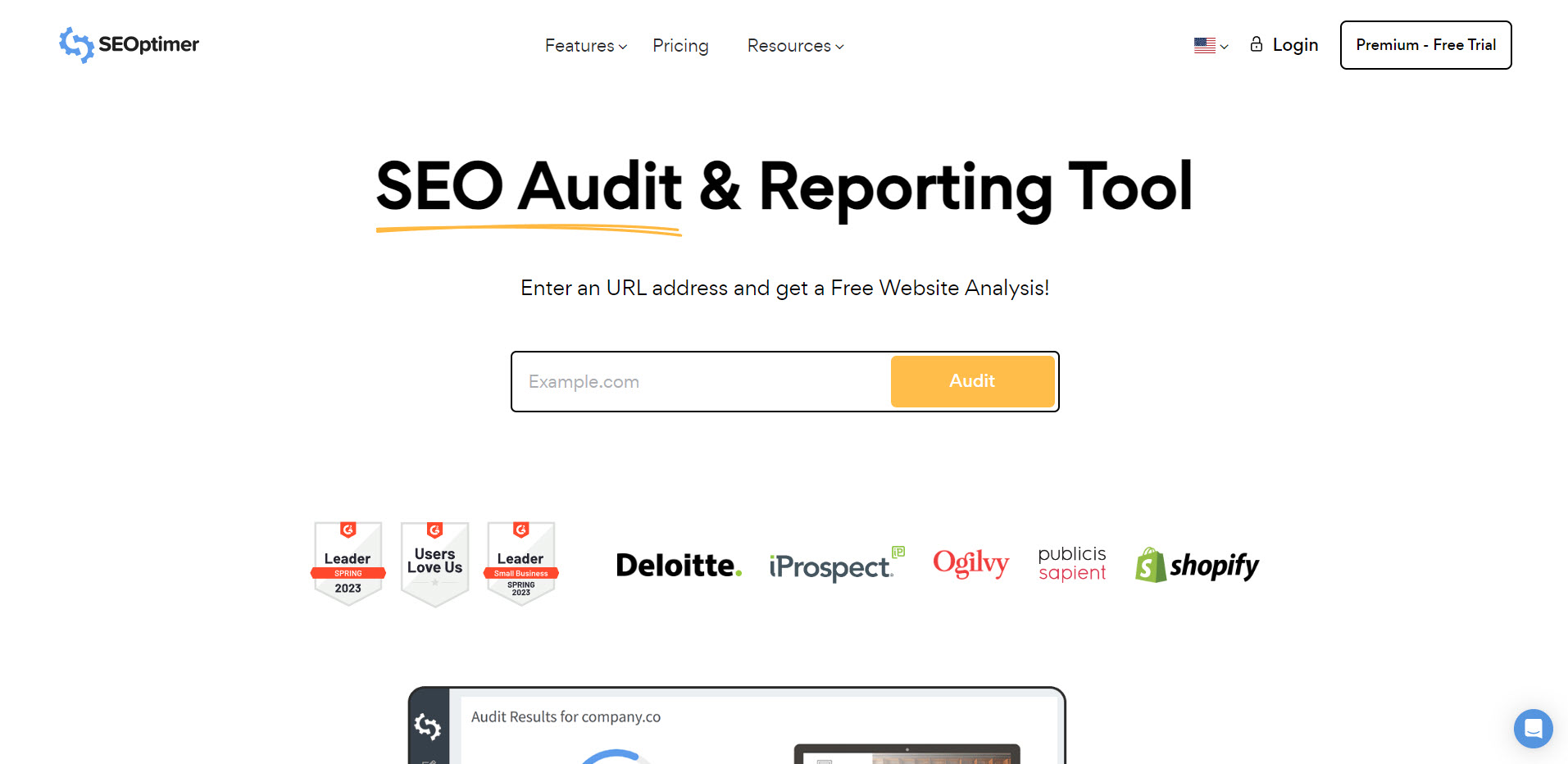 Best for: Agencies looking for a simple way to provide SEO reports to clients.
SEOptimer analyzes websites across five categories: SEO, links, usability, performance, and social. This gives you a more comprehensive view of your site and insights on how to improve it for search engines, users, and your target audience.
The report gives you a rundown of factors that your website got correctly and the ones you need to work on. You can measure the progress of your changes by referring to your website grade on a scale of F to A+.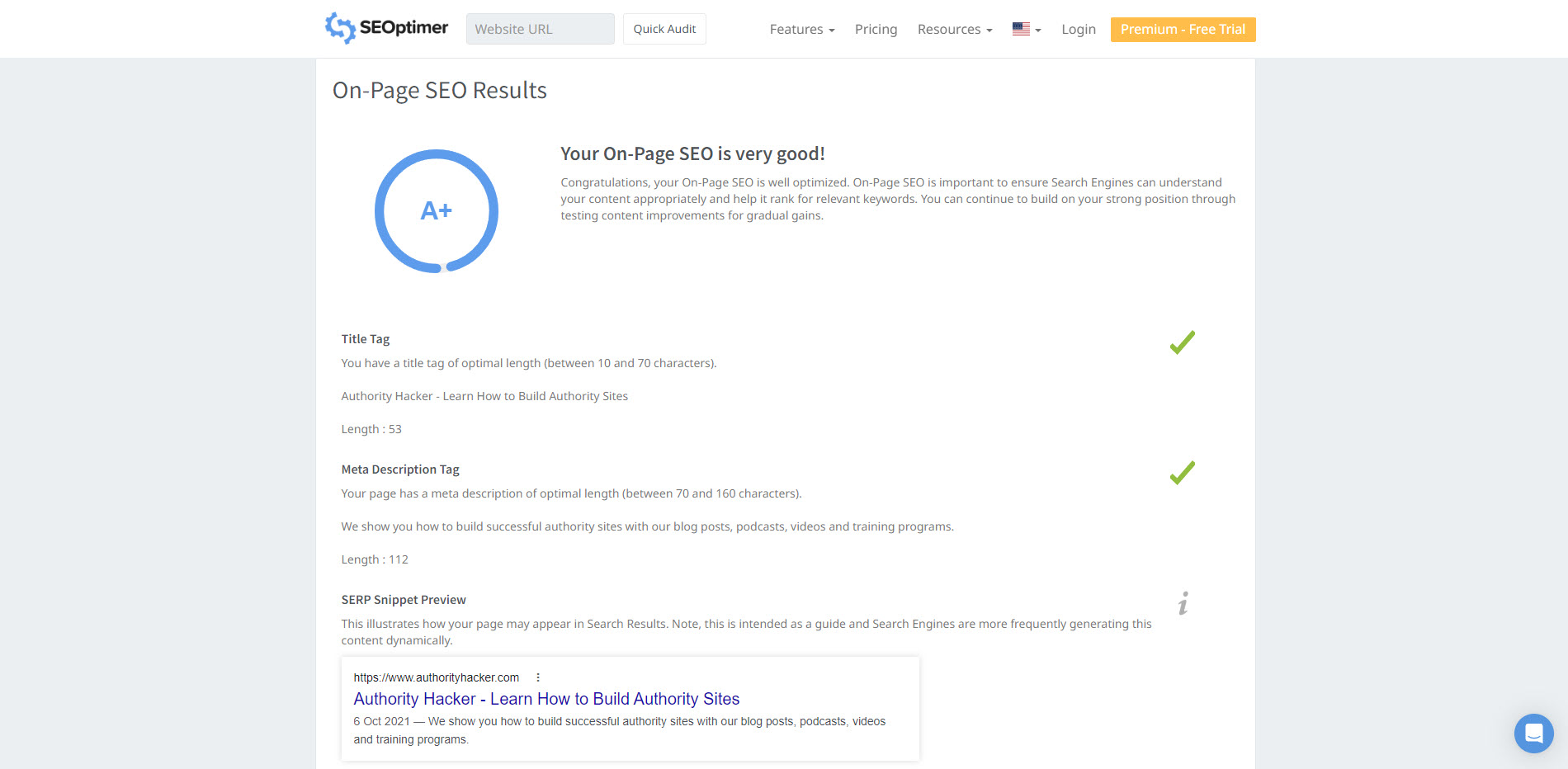 As a reporting tool, you can download the audit results as a white-label PDF file and share it with your clients. Use the information here to help support the SEO strategy and campaign you're developing for the website. You can also use it to come up with SEO suggestions for clients and provide more value to your services.
You can embed SEOptimer on your website to help generate more leads for your business. Customize the embeddable audit tool with your brand so visitors can run an SEO audit of their website from your site. To get the report, they must enter their email address for the tool to send it to them automatically. From here, you get their contact details and follow up with each of them regarding their site's SEO progress.
Pricing
The minimum monthly subscription of SEOptimer costs $19/month ($14.25/month paid annually). You can run four crawls for the same site in a month and get access to data like keyword recommendations, keyword tracking, and more. The price increases as the limits increase as well. Higher tiers also gain access to more advanced features like keyword research, white-label PDF reporting, and the embeddable audit tool.
14 - Sitebulb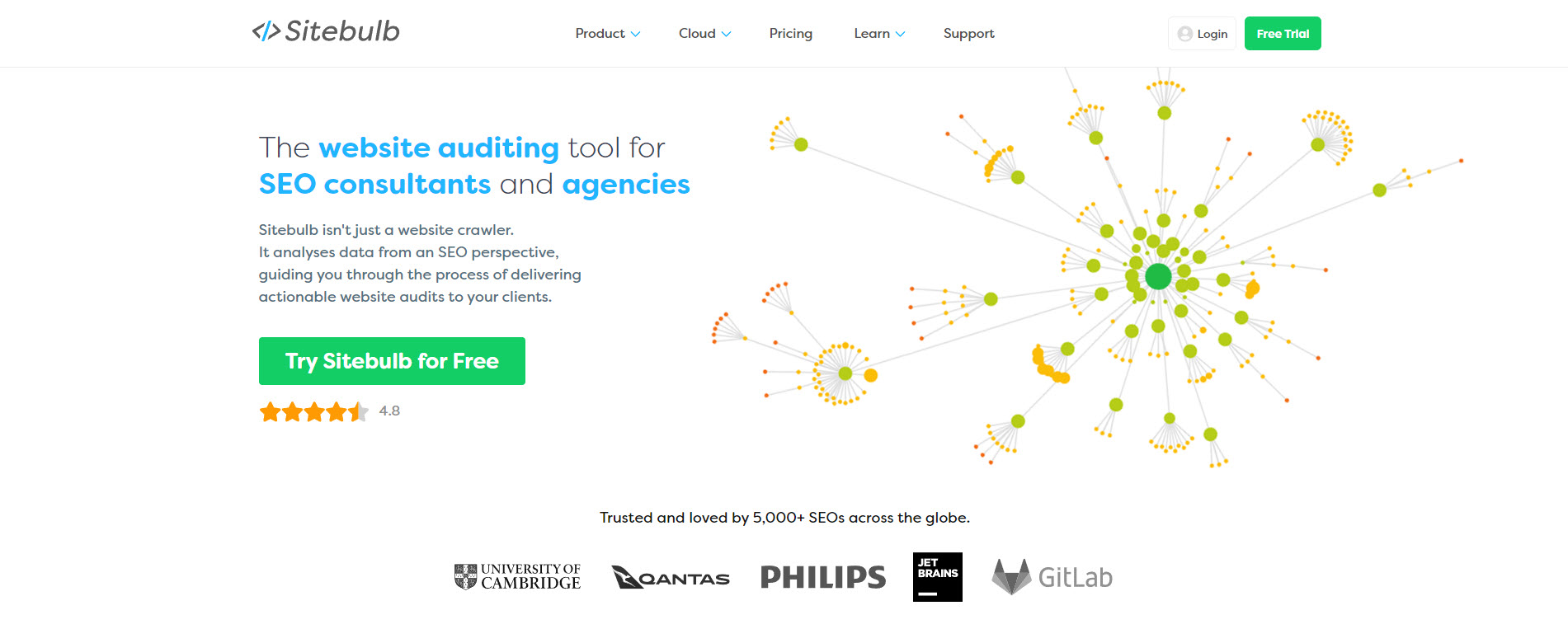 Best for: Agencies working with enterprise clients who want a clear and easy way of monitoring and understanding their sites' SEO progress.
For SEO consultants and agencies catering to medium- to large-sized clients, Sitebulb is the SEO audit tool for them. It uses advanced crawling technology and JS rendering to effectively find site pages and conduct an extensive crawl for each across 300+ SEO issues and opportunities.
The report breaks down the results from highest to lowest priority, making organizing which problems to address on your site first much more straightforward. It also doesn't hurt that Sitebulb provides in-depth explanations of each factor and walks users like you through the steps to solve each one. You can even track your website changes over time to cross-reference its SEO performance with the problems you've resolved.
Once the audit is complete, Sitebulb lets you send the audit report to your clients as a white-label PDF file. The best thing about the report is you can pick and choose which data to show to clients. For instance, you can show hints or suggestions to fix the site without delving deep into why you must do them. This allows you to not reveal your SEO secrets without compromising the quality of service you offer clients.
Pricing
Sitebulb comes as a desktop-based tool costing at least $13.5/month (or $135/year) for a single seat and 10,000 audited pages a month. Users can access 100+ Prioritized Hints per report, JS crawling, GA/GSC integration, and more. Higher plans allow users to audit 500,000 URLs per report. Other advanced features included here are audit comparison, customized PDF reports, and others.
The audit tool is also a cloud platform, ideal for auditing large websites. It lets you save unlimited projects and reports online and gives you a maximum of 1 million crawled URLs monthly (250k max per project). Price starts at $245/month.
15 - Woorank

Best for: Companies that want a sleek and intuitive site audit tool that can create beautiful client reports in a few clicks.
Woorank's site audit feature helps uncover issues preventing your site from ranking higher on Google search. The report lets you organize the data and determine which problems need your attention the most so you can uncover easy wins and get the most out of your SEO work. Users can also set up an automated schedule for when the tool audits the site.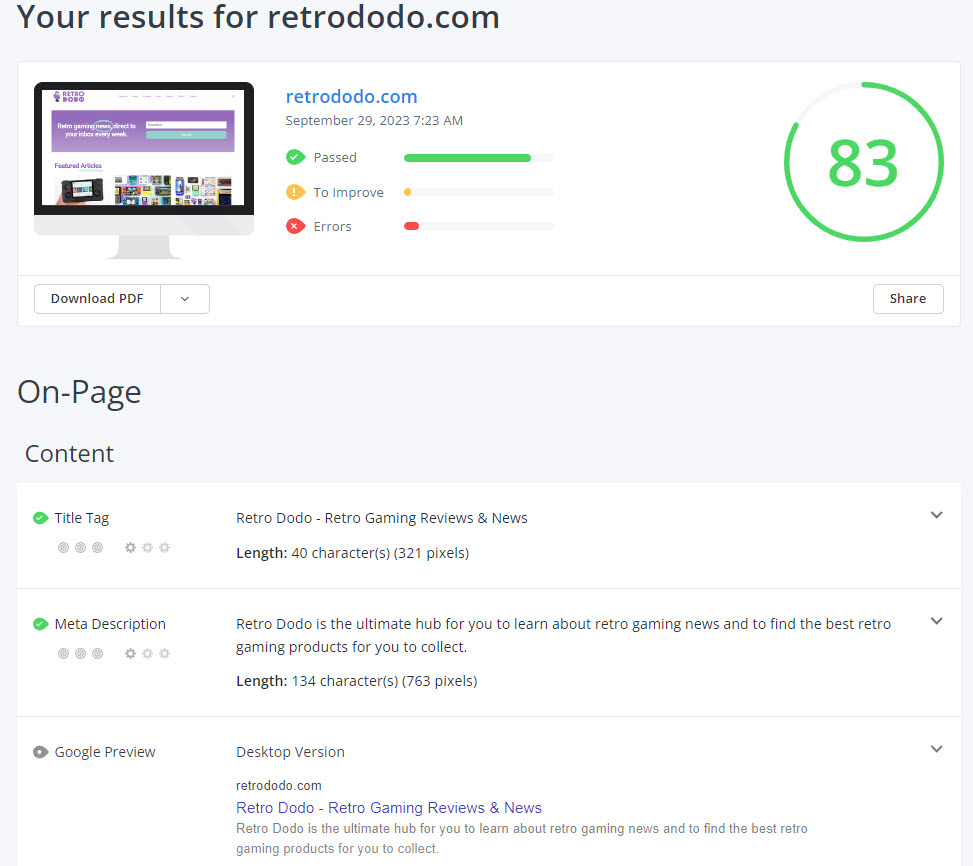 Woorank has a lead generation tool lets you embed its site audit feature on your agency site. Whenever visitors run an SEO audit using the tool, they can receive the white-label report of the audit results after sharing their email addresses with you.
You can make Woorank part of your client reporting workflow using its API. This lets you automate tasks by automatically running thousands of URLs and identifying data points to gather into a specific format. This way, you can focus on growing websites and mining insights from the results produced by the tool.
Pricing
For $89.99/month ($53.25/month paid annually), you can manage a single project with up to 2,500 pages and track 50 keywords. It also gives you unlimited website reviews (perfect for analyzing competitor sites), compares your website project to three competitors maximum, Google Analytics and Search Console integration, and more.
Higher plans let you manage more projects, crawl more pages, and track more keywords. It also unlocks Woorank's lead generation and white-label PDF reporting features.
What's the Best SEO Audit Tool to Use?
Among the SEO audit tools above, the answer to the question depends on what you're looking for.
For instance, if you're a site owner looking for an affordable tool to audit and analyze their site's technical SEO issues, you can't go wrong with Ahrefs Webmaster Tools and SEO Powersuite Website Auditor.
However, if you're looking for additional features to help flesh out your SEO strategy, tools like Rave, SEMrush, and SE Ranking should do the trick.
For agency owners, Screaming Frog, Lumar, and OnCrawl offer comprehensive audit reports and a client dashboard where they can check the results at their own convenience.
From here, try the tools out by signing up for their free trials and see which is the right SEO audit tool for you.
Of course, gathering SEO audit results is just part of the puzzle. You also have to implement the fixes for the crucial and technical issues found in the report. Sometimes, you may not have the skill and know-how to find the exact issues your site may have.
Enter Charles' SEO audit services. Our team has years of experience analyzing websites for potential issues and problems before they happen. We then provide you with the blueprint of why you need to address them immediately and how you can do it. You can also choose from our handpicked partners to execute the audit fixes.
Learn more about how our services can unleash your site's true SEO powers here!